About Dawn Chamorro
Born and raised Texan, Dawn Chamorro, has spent most of her life on and around horses. Since the age of 5 Dawn Chamorro has worked very hard for her passion of horses.  In her early years she competed regularly in the Hunter/Jumper Circuit. Never having a top competing horse at that time Dawn was extremely blessed that her family did all they could to encourage her riding. 
While Dawn was younger she spent many hours in the barn doing barn chores so she could ride any of the horses available. Her mother always encouraged her to be fully committed in every aspect of the sport if she were to take it seriously. Once high school came around Dawn stuck to riding her first pony every now and again. During that time her mother, Tina Kittel, decided to build a stable of their own.
 
Once Isabella Farms was established, Dawn found a new love in Eventing. Dawn had the opportunity to buy an OTTB and was ecstatic! It was her first official horse. She had always ridden horses that weren't so easy or were not very forgiving. Having had experienced some harder rides in her life, Dawn feels more educated by different experiences and horses. After importing one event horse Dawn was off to the East Coast to train with Phillip Dutton and Boyd Martin. Dawn eventually bought a third horse from Will Coleman that she competed as well. The wealth of knowledge and experience from the several months of training for several years was above and beyond what she expected. All the training was taken to a whole other level. It was refinement in the already naturally talented rider. Dawn owes so much to those two as they were a huge help.
 
During the time of eventing Dawn always continued to work on her dressage. Dawn was bringing in Shannon Dueck and visiting Betsy Steiner at the same time. Dawn was lucky enough to rider several Grand Prix Dressage horses at that time and it made the love for dressage much stronger and way more interesting. Once the true power of a horse in harnessed, a whole new feeling for the sport came about. She loved dressage.
 
Dawn shortly became a mother in 2010 to her first son, Tristan. She rode through most of her pregnancy and still taught and trained horses. She took a bit of a break after he was born but was back in the saddle after 6 months. Again, shortly after, Dawn realized she was pregnant once again and gave birth to her second son, Dean, in 2013. A short 6 weeks later Dawn was back in the saddle and riding young horses and teaching clients. During her second pregnancy she did not ride due to a harder pregnancy.
 
Now a mother of two handsome boys, over 30 years of experience around horses, manager of a beautiful farm, and a trainer of many wonderful horses Dawn continues to work hard daily. Dawn continues to bring in many top riders and trainers all over the world to improve and perfect her passion and craft. In 2014 Dawn purchased Supremat OLD, a 2008 Oldenburg stallion from Germany. It was a match made in heaven. Dawn couldn't pass up the opportunity. They work extremely well together. The patience Dawn has and the ability Supremat has makes them unstoppable.
 
Some of the people Dawn Chamorro has trained with include Bill Solyntjes, Conrad Schumacher, Jan Ebeling, Christine Traurig, Robert Dover, Anne Gribbons, Lisa Wilcox, Lars Petersen, Endel Ots, Katherine Bateson, Charles de Kunffy, Thomas Walker, Betsy Steiner, Shannon Dueck, Rudolf Rostek of the Spanish Riding School, Phillip Dutton, Mara Dean, Boyd Martin, and so many others.
 
She continues to bring in Bill Solyntjes and Jan Ebeling regularly.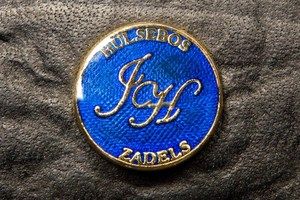 Hulsebos Saddles